Aufsichtsrat der Daimler AG beruft Ola Källenius in den Vorstand
Letzte Woche hatte ich noch geschrieben, dass Ex-AMG-Chef Ola Källenius Gerüchten zur Folge in den Vorstand der Daimler AG berufen werden soll – nun ist diese Personalie offiziell bestätigt.
Ola Källenius übernimmt Vorstandsressort "Mercedes-Benz Cars Vertrieb". Der Aufsichtsrat hat den Schweden mit Wirkung zum 1. Januar 2015 bis zum 31. Dezember 2017 zum Mitglied des Vorstands bestellt. Er bleibt weiter verantwortlich für den weltweiten Pkw Vertrieb. Damit erweitert der Aufsichtsrat der Daimler AG den Vorstand wieder auf acht Mitglieder.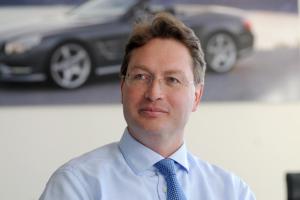 Ola Källenius, geboren am 11. Juni 1969 in Schweden, ist seit Oktober 2013 Mitglied des Bereichsvorstandes Mercedes-Benz Cars zuständig für Vertrieb. Von 2010 bis 2013 war er Vorsitzender der Geschäftsführung der Mercedes-AMG GmbH. 2009 leitete er als Präsident und Chief Executive Officer für Mercedes-Benz U.S. International, Inc. das Produktionswerk für die SUVs der M-, R- und GL-Klasse. Davor war er als Managing Director der Mercedes-Benz HighPerformanceEngines Ltd. in Brixworth, Großbritannien, für die Auslegung, die Entwicklung und die Produktion von Mercedes-Benz Formel 1 Motoren verantwortlich. Zuvor war er ab 2003 Executive Director Operations bei McLaren Automotive Ltd. Er begann seine Karriere bei der ehemaligen Daimler-Benz AG im Jahr 1993 in der Internationalen Nachwuchsgruppe. Nach ersten Aufgaben im Controlling übernahm er verschiedene Führungspositionen innerhalb der Daimler AG, unter anderem als Bereichsleiter des Einkaufs Antriebsstrang der Mercedes Car Group. Er absolvierte an der Stockholm School of Economics und der Universität St. Gallen die Masterstudiengänge "International Management" und "Finance and Accounting".
Die Gerüchteküche sagt außerdem, dass Källenius ein heißer Kandidat für die Nachfolge von Konzern-Chef Dieter Zetsche ist, dessen Vertrag am 31.12.2016 endet. Auch bei BMW steht ein Führungswechsel im kommenden Jahr ins Haus, daher möchte man sicherlich gerne "junge" Gesichter an der Spitze haben, um Optionen für die Zukunft zu haben.
Andererseits ist aus meiner Sicht auch vorstellbar, dass bei anhaltend positiver Entwicklung der Zahlen, Zetsche das von ihm initiierte "Fit for Leadership 2020" – Programm noch zu Ende bringen kann. Wir werden sehen….
(Quelle und Bild: Daimler AG, "Källenius neuer Daimler Vorstand", Tagespresse)