Guess the car – Rate das Auto im Blind-Test (Video)
Willkommen im Darkroom: "Guess the car" – Eraten Sie das Auto" lautete eine Promotionaktion von der Mercedes-Benz-Tochter smart mitten in Hamburg.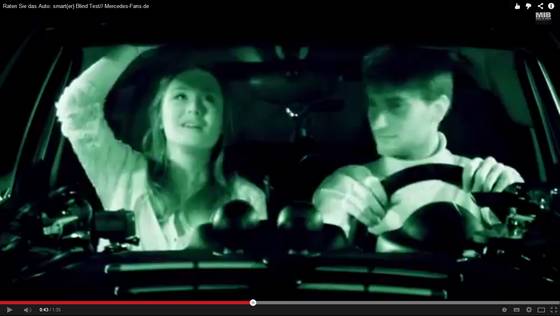 Die Menschen, die vorüber kamen waren eingeladen, sich in vollkommner Dunkelheit einem unbekannten Auto zu näheren und es tastend, fühlend und riechend zu entdecken. Mit allen Sinnen außer dem sehenden Auge sollten Passanten ausfindig machen, in welchem Auto sie gerade sitzen. Eine Nachtsicht-Kamera nahm die Rätselspielkandidaten dabei auf. Es ist schon lustig, was die Leute vermuten, in welchem Fahrzeug und in welcher Fahrzeugklasse sie sich befinden.
Noch besser sind die Blicke, wenn das Licht angeht – ein amüsantes Video!

(Quelle: Mercedes-Fans,de, "Smarter Blindtest", Bild: Youtube/Mercedes-Fans.de)