IWC SCHAFFHAUSEN – Ingenieur Chronograph Edition 'Lewis Hamilton' und 'Nico Rosberg'
Das MERCEDES AMG PETRONAS Formel 1-Team und IWC Schaffhausen haben ihre Partnerschaft um weitere drei Jahre verlängert. Die Schweizer Uhrenmanufaktur ist seit 2013 Official Engineering Partner des Teams. Gleichzeitig sind die Fahrer des Teams, Nico Rosberg und Lewis Hamilton, "Friends of the Brand".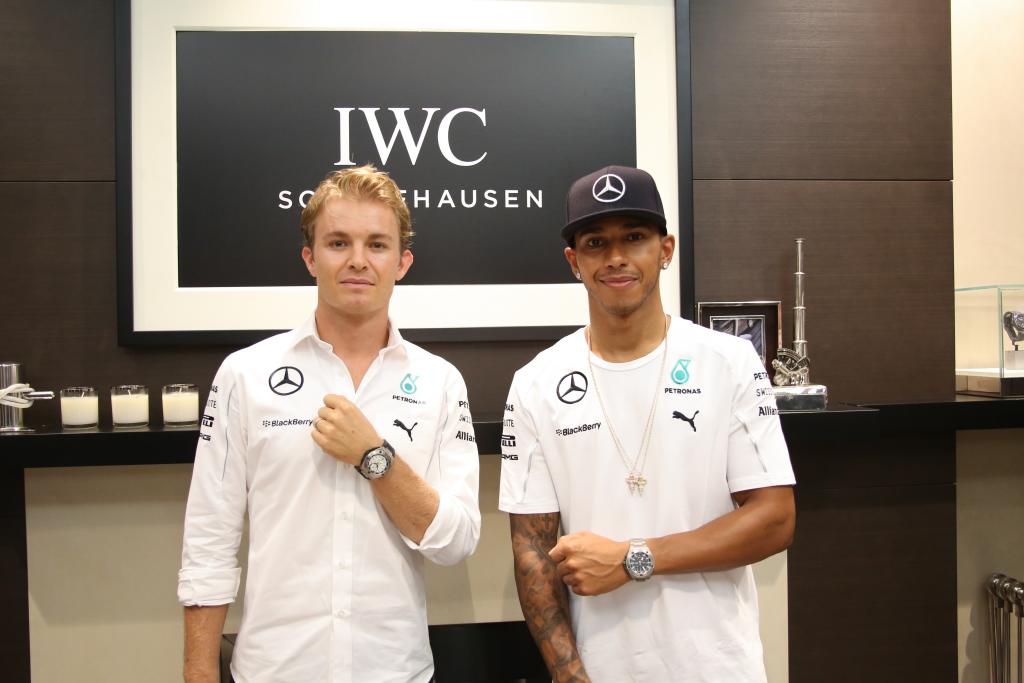 Lewis und Nico präsentierten im Vorfeld des Grand Prix-Wochenendes in Singapur ihre persönlichen IWC Ingenieur Chronograph Editions. Diese beiden Special Edition Uhren sind auf jeweils 250 Stück limitiert. Sie wurden von den Fahrern persönlich signiert und in enger Zusammenarbeit mit den geschickten Uhrmachern von IWC in Schaffhausen entworfen. Beide Editionen besitzen ein Titan-Gehäuse und ein Medaillon aus Carbon auf der Rückseite der Uhr. Letzteres stammt von einem der Silberpfeile, die das MERCEDES AMG PETRONAS Team eingesetzt hat. Zudem ist das persönliche Logo des jeweiligen Fahrers zu sehen.
Die Uhr wird – wie es auch von IWC-CEO Georges Kern vermutet wird – sicher ihre Fans bei Uhren- und Motorsport-Fans finden. Und sicherlich auch bald vergriffen sein. Über den Preis habe ich leider noch nichts gefunden.
Weitere Fortos findest Du hier:
www.photopress.ch
Über IWC Schaffhausen
Mit einem klaren Fokus auf Technologie und Entwicklung stellt die Schweizer Uhrenmanufaktur IWC Schaffhausen seit 1868 Zeitmesser von bleibendem Wert her. Das Unternehmen hat sich durch seine Passion für innovative Lösungen und technischen Erfindergeist international einen Namen gemacht. Als eine der weltweit führenden Marken im Luxusuhrensegment stellt IWC Meisterwerke der Haute Horlogerie her, die Engineering und Präzision mit exklusivem Design vereinen.
(Quelle: Daimler AG, "Partnerschaft Mercedes AMG / IWC", Bilder: Daimler AG, IWC Schaffhausen)