Limitierter Kundensport-Rennwagen zum 50. Geburtstag: AMG GT3 Edition 50
50 Jahre AMG gibt es in diesem Jahr zu feiern. Aus diesem Anlass werden verschiedene, besondere Mercedes-AMG-Modelle präsentiert und auch einige Modelle aus vergangenen Tagen neue ins Rampenlicht gestellt.
Aus diesen Veröffentlichungen werde ich in den kommenden Wochen immer wieder Artikel aufgreift, damit Du in diesem Jubiläum in kleinen Häppchen teilhaben kannst.
Heute starten wir mit dem AMG GT3 Edition 50 von dem es nur fünf Stück geben wird und der daher durchaus als exklusives Sammlerstück bezeichnet werden kann.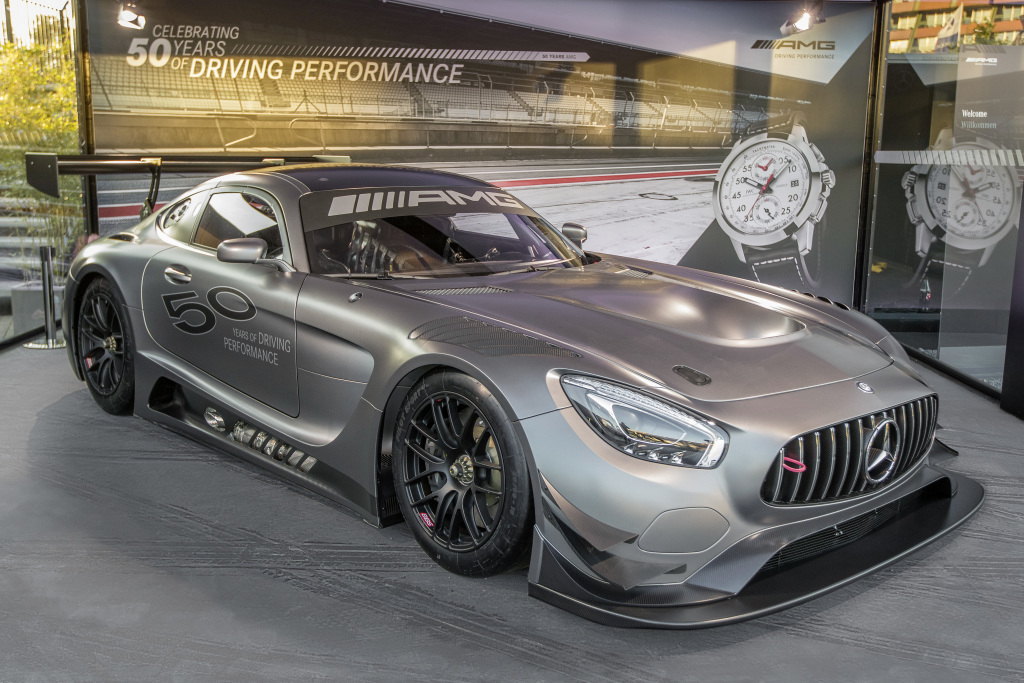 Eine erstmals bei AMG verwendete Farbe (die leider noch nicht näher bezeichnet wird) bekommt mit dem ebenfalls neuen Farbton "Real Black", einem matten schwarz interessante Kontraste.
"50 Years of Diving Performance" ist auf einem silbern eingeräumten Logo auf den Türen des Trainers zu lesen – die Schrift selbst besteht aus feinstrukturierten Sichtcarbon.
Aus Carbon bestehen sowieso viele Teile dieses Renners: der Heckdiffusor, der Heckflügel, die Flics, die Lufteinlässe, der Kühlergrill und die Seitenschweller bestehen aus diesem Werkstoff und sind jeweils matt lackiert.
Eine offene Abgasanlage betont im Wortsinn das Alleinstellungsmerkmal dieses Fahrzeugs.
Im Innenraum dominiert die Rennwagen-Atmosphäre. Überrollkäfig und sichtbare Bodengruppe fallen als erstes auf, auf den zweiten Blick sieht man die Instrumententafel Türverkleidungen, Lüftungsrohr und mittels Konsole in Carbon-matt. Dazu passend gibt es silberne Sechspunkt-Sicherheitsgurte. Für einen Rennwagen jedoch ungewöhnlich ist der Beifahrersitz, der natürlich auch ein aus Carbon gefertigter Rennsitz ist.
Im Innenraum erinnert außerdem die Plakette "Edition 50 -1 of 5" daran, in welch seltenem Stück man sich aufhält.
Im Preis inbegriffen ist auch ein Car Cover sowie eine Uhr des AMG Partners IWC Schaffhausen: eine Ingenieur Chronograph Edition "50th anniversary of Mercedes-AMG".
Die fünf Fahrzeuge werden direkt in Affalterbach übergeben einschließlich einer ausführlichen Einführung in die Technik. Auf Wunsch gibt es noch ein persönliches Rennstreckencoaching im Rahmen eines Inbetriebnahme-Events für das Fahrzeug.