Ab Herbst: smart Kofferraum wird zum Paketfach
Mit "smart ready to drop" wird der Einkauf im Internet künftig noch viel bequemer. Die Zustellung des Pakets übernimmt der Kooperationspartner DHL Paket. Der Paketzusteller erhält dazu temporär und einmalig über eine spezielle App eine schlüssellose Zugangsberechtigung für den Kofferraum des geparkten smart.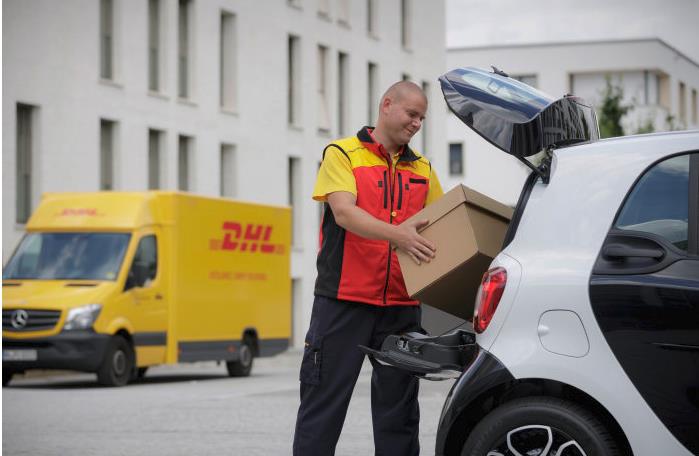 Der DHL-Zusteller wird per App über den gewünschten Lieferort informiert und kann den smart einmalig und nur in einem bestimmten Zeitraum mit der TAN öffnen.
Nachdem der DHL-Bote das Paket im Gepäckraum deponiert hat, verschließt er das Fahrzeug wieder digital. Damit erlischt gleichzeitig seine Zugangsberechtigung. Der smart Fahrer wird per App automatisch über die erfolgreiche Zustellung informiert.
Dazu ist ähnlich dem car2go-System eine "Connectivity Box" unter der Frontscheibe nötig. Neuwagenkäufer können ihren smart ab September mit einer solchen Vorrüstung ab Werk bestellen (Details siehe unten), ferner ist die Nachrüstung beim Händler möglich.
Kostenlose Nachrüstung des Fahrzeugs für Teilnehmer des Beta-Tests
Im September läuft "smart ready to drop" als Beta-Test in Stuttgart an, wenige Monate später startet das Projekt auch in Köln, Bonn und Berlin. Weitere Städte werden folgen. Mit mehreren hundert Teilnehmern pro Stadt will smart Erfahrungen unter realitätsnahen Bedingungen sammeln. Ein erster, mehrmonatiger Feldversuch mit rund 30 smart Fahrern wurde 2015 bereits erfolgreich absolviert.
smart Fahrer, die teilnehmen möchten und in einer der genannten Städte wohnen, können sich über die spezielle Seite http://www.smart.com//drop näher informieren und ab September bewerben. Belohnung für die Teilnahme der ersten Nutzer ist die kostenlose Nachrüstung ihrer Fahrzeuge, die damit zum "connected car" werden und sich so für weitere innovative Services nutzen lassen.
Editionsmodell ab September erhältlich
Ab September 2016 ist die smart fortwo ready to-edition zu Preisen ab 15.930 Euro (unverbindliche Preisempfehlung für Deutschland inklusive 19 % MwSt.) erhältlich. Die Nachrüstung mit der "Connectivity Box" ist möglich für smart fortwo der letzten Modellgeneration mit Verbrennungsmotoren (C 451), für das aktuelle smart fortwo coupé sowie für den smart forfour.