Superhelden fahren Mercedes Benz
Am 16. November 2017 startet der Warner Bros. Film JUSTICE LEAGUE, einer der meist erwarteten Superheldenfilme aller Zeiten, in den deutschen Kinos, und Mercedes-Benz Fahrzeuge unterstützen Batman, Wonder Woman, Aquaman, Cyborg und The Flash in ihrem Bemühen, die Welt vor einem Angriff katastrophalen Ausmaßes zu retten. Begleitet werden die DC-Comic-Kultfiguren auf der Leinwand vom neuen E-Klasse Cabriolet, dem Mercedes-Benz AMG Vision Gran Turismo mit einem eigens für den Film neu konzipierten Interieur, und der G-Klasse 4×42, die zusammen eine tragende Rolle in dem epischen Action- und Abenteuerstreifen spielen. Mercedes-Benz begleitet den Kinostart mit umfangreichen Marketing-Maßnahmen, darunter ein 30-sekündiger TV-Spot, sowie Print- und Online-Werbung. Abgerundet wird die Kampagne durch vielfältige Aktivitäten in den sozialen Medien, sowie sechs exklusiven digitalen Comic-Geschichten für die Mercedes-Benz Instagram-Kanäle. Die Comic-Storys wurden in Zusammenarbeit mit dem Custom Creative Studio von DC Entertainment entwickelt.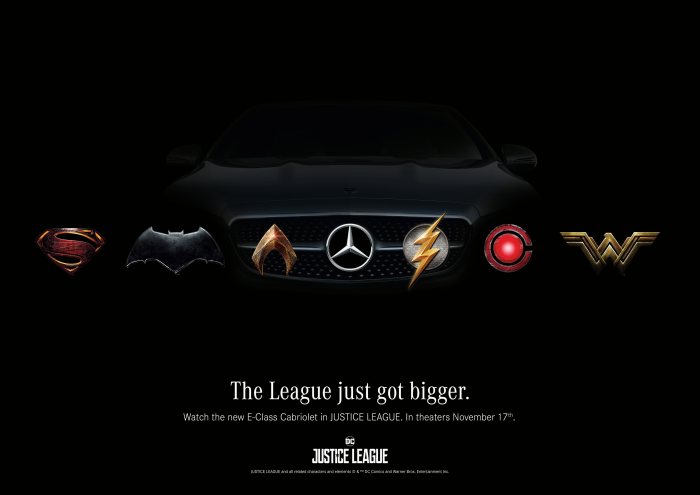 JUSTICE LEAGUE
Ben Affleck, Henry Cavill, Gal Gadot, Raymond Fisher, Jason Momoa und Ezra Miller sind die Stars des Action-Abenteuers JUSTICE LEAGUE.
Angetrieben von seinem neu erwachten Glauben an die Menschheit und inspiriert von Supermans selbstlosem Handeln, bittet Bruce Wayne seine neue Verbündete Diana Prince um Hilfe beim Kampf gegen einen noch größeren Feind. Gemeinsam rufen Batman und Wonder Woman ein Team von Superhelden zur Bekämpfung der neuen Bedrohung zusammen. Aber trotz dieser beispiellosen Heldenliga – Batman, Wonder Woman, Aquaman, Cyborg und The Flash – ist es vielleicht schon zu spät, um den Planeten vor einem Angriff katastrophalen Ausmaßes zu retten.
JUSTICE LEAGUE wurde von Regisseur Zack Snyder auf Grundlage des Drehbuchs von Chris Terrio und Joss Whedon und einer Story von Terrio & Snyder gedreht. Basierend auf Charakteren von DC Entertainment wurde Superman von Jerry Siegel und Joe Shuster geschaffen. Produzenten des Films sind Charles Roven, Deborah Snyder, Jon Berg und Geoff Johns; Executive-Produzenten Jim Rowe, Wesley Coller, Curtis Kanemoto, Chris Terrio und Ben Affleck.
Der Filmstart in 3D und 2D findet in deutschen Kinos und IMAX ab 16. November und am 17. November in den USA statt.
Einen ersten Spot zu der Kampagne gibt es bereits: